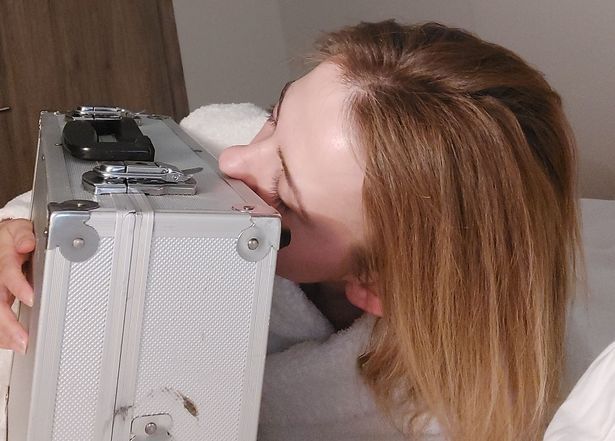 Needless to say, 2020 is a year of strange events and strange happenings. To this list is added a 24-year-old Russian woman, who revealed that she "married" a briefcase and says that her new "husband" is the love of her life. Her bizarre relationship with the briefcase called "Gideon" is an example of objectophilia, which has a sexual or romantic attraction to an inanimate object. Read also – The German woman announces that she will marry a plane, claims that they have been dating for 6 years
Hailing from Moscow, the woman named Rain Gordon said she was always attracted to inanimate objects and things eventually became romantic with a briefcase she now calls "husband". The 24-year-old married the briefcase in June this year to a partner who officiated the ceremony, LadBible reported.
In 2015, Rain met Gideon in a hardware store and eventually fell in love. Rain said their relationship became official a few months later, in November 2015, when they shared their first hug and kiss.
"Our connection and spiritual communication are presented telepathically. I hear him and he hears me, but from the outside it looks like a monologue. Gideon is more than a partner to me. He is a husband, friend and mentor. His moral support helps me more than anyone. Sometimes I feel that Gideon knows me better than I do. "
She also admitted that she had had relationships with men in the past, however, she was always happier in relationships with objects. In 2017, she had a new relationship with a man, but said she can't connect with him in the same way as Gideon.
Speaking about this strange relationship, she said: "My fascination with objects began at the age of eight. From childhood we believed that a soul is embedded in objects, as well as in everything around us. I believe in animism, which means that there is life in everything. As a child and teenager, I fell in love with places like the new mall that opened in my hometown. I knew it was wrong even beyond the rules of society. I didn't tell anyone. "
In a similar case, in January this year, a woman from Berlin, Germany, married a jumbo plane, with which she "met" for the last six years! The 30-year-old, who is a saleswoman, says she met the plane at Berlin Tegel Airport in March 2014, claiming it was love at first sight. She even nicknamed 737-800 "Schatz", which translates as "dear."
$(document).ready(function(){ $('#commentbtn').on("click",function(){ (function(d, s, id) { var js, fjs = d.getElementsByTagName(s)[0]; if (d.getElementById(id)) return; js = d.createElement(s); js.id = id; js.src = "https://connect.facebook.net/en_US/all.js#xfbml=1&appId=178196885542208"; fjs.parentNode.insertBefore(js, fjs); }(document, 'script', 'facebook-jssdk'));
$(".cmntbox").toggle(); }); }); Source