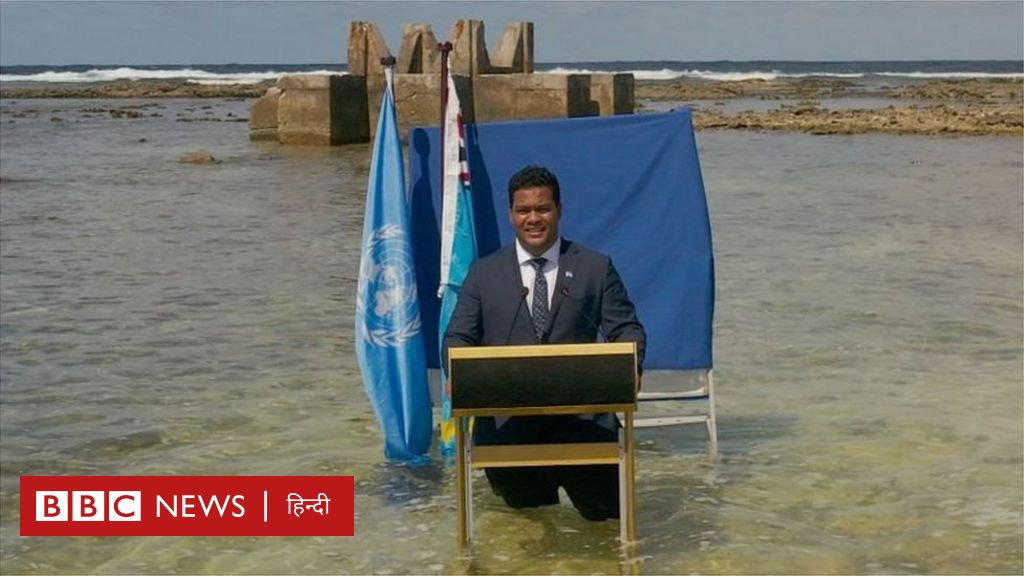 Wait a minute, think of your home. Think of your roots. Think of a place you love more than any other place in the world.
And there will be a place so close that it will disappear from the earth …?
How painful it is to imagine that … isn't it!
But for the dozens of islands on this earth, this fear is not a fantasy but a reality of the future.
These islands are already losing land due to rising sea levels due to climate change. Climate change has also caused people on these islands to experience a shortage of drinking water.
BBC Mundo has studied the current situation in the small island nation of Tuvalu in the Pacific Ocean. Tuvalu is one of the island nations that is directly affected by climate change. An island that is urging the world's most polluted countries to reduce their greenhouse gas emissions.
However, despite the urging, the country is ready for its worst. The worst case scenario … is when this country goes under water.
Simon Coffey, the country's Minister of Justice, Communications and Foreign Affairs, sent a very emotional message to COP26 at a meeting of countries around the world on the issue of climate change. The summit, held in Glasgow, Scotland, was attended by leaders from around the world, who sought to find a solution by discussing the crisis of climate change.
In his message, Simon had said – we are drowning but the same thing is happening to everyone.
During this message coffee was standing in knee-deep water. The place where he was standing was once a dry part, but now it is flooded due to climate change. In his message, referring to Tuvalu, he said that where Tuvalu is today is only a symptom of the dire consequences of the climate crisis. It will only get worse in the years to come and it will hit the rest of the world.
Sea level, potential danger
Tuvalu has nine small islands. It is about 4,000 km from Australia and Hawaii. Its closest neighbors are Kiribati, Samoa and Fiji.
Coffey told BBC Mundo that Tuvalu is not high above sea level. The highest point is four meters above sea level.
It is spread over 26 square kilometers, where about 12000 people live.
Like other islands like Kiribati and Maldives, Tuvalu is made up of coral reefs and has been particularly severely affected by global warming.
Coffey told the BBC Mundo that where they live there is a thin layer of land and in some places you can see the sea on both sides. The open sea on one side and the lake on the other.
"Over the last few years, sea levels have risen and some parts of the land have been cut off," he said.
Coffey said Tuvalu has been facing severe cyclones and droughts for some time. In addition, rising ocean temperatures have damaged coral reefs, which are important for coastal protection and fish breeding.
But this is not the only problem.
Effects on the sea and its drinking water
In some places, sea water is being carried underground, affecting aquatic life, Coffey said.
He said, "Normally we get rain water for drinking water but on some islands wells are dug to get ground water. But now it is not possible as seawater is stagnant in some places. In such a situation now we depend only on rain for drinking water."
The accumulation of salt water in the soil has also affected agriculture. Arable land has become unusable. The seriousness of this is evident from the fact that the Taiwanese government is financing a pilot project for food production in the limited conditions of Tuvalu.
Coffee said that salinity has made it difficult to grow food grains and in such a situation, dependence on imported goods is slowly increasing.
Islands like Tuvalu have been demanding a concerted global effort on climate change for more than 30 years.
In 1990, Pacific island nations formed political alliances with Antigua, Barbuda, and the Maldives. The alliance's goal was to build a common front on climate change.
The Alliance of Small Island Countries today has 39 members. This lead has played an important role in exposing the serious consequences of global warming in developing countries.
A report released by the United Nations Intergovernmental Panel on Climate Change (IPCC) on August 9 this year states that global sea level rise has tripled between 1901 and 2018. Which is currently 3.7 mm per year.
Red alert for human civilization
"The situation in the Pacific Islands is extremely bad," Dr Morgan Viriu, a climate change expert and lead author of research on small islands in the IPCC report, told BBC Mundo.
"Regional average sea level rise in the South Pacific between 1900 and 2018 was measured between 5 and 11 mm," he said.
However, there is no separate data on Tuvalu.
An increase of even one meter in the sea is expected to have a direct impact on the biodiversity of the coastal areas and will have many serious indirect effects.
The IPCC also said in its report that if emissions levels were high, sea levels could rise by more than one meter world average by 2100. Also, if emissions are not controlled, the highest level could rise by 5 meters by 2150.
While the current state of climate change is undeniable and no concrete steps have yet been taken globally, Tuvalu and its people are looking for future options for themselves.
"It will be the worst. We have to leave our place. Our islands are sinking into the sea," Coffey told BBC Mundo.
"International standards are not in favor of countries like ours. We have not seen any country disappear due to climate change," he said.
Tuvalu is currently looking for a legal way to be accepted internationally so that even if the country disappears, it will be recognized as a country.
There are so many options we're considering, says Coffee.
Apart from Kiribati, Tuvalu has not purchased land in Fiji. However, Coffey says the country has made a public announcement that "the land will be offered if we sink in the future."
Coffey says we still don't know where we want to go after the transfer. Explaining the reason behind this, he says that we fully understand that transfer can be used as an excuse. Big countries may say they have given us shelter, they will continue to emit greenhouse gases.
"Relocation is our last resort," says Coffey.
A legal battle for damages
Tuvalu is expected to receive the same compensation as developing countries. Tuvalu wants to compensate on the same grounds as developing countries say that climate change has reached a critical stage and is affecting them, and that they are entitled to compensation.
Tuvalu recently registered a commission with the governments of Antigua and Barbuda.
Coffey says the sole purpose behind the creation of the commission is to allow it to reach the International Court of Justice for the Law of the Sea. And at the same time you can get advice.
The International Court of Justice for the Law of the Sea, located in Hamburg, Germany, is responsible for resolving disputes related to the 1982 United Nations Convention on the Law of the Sea.
The convention has been ratified by the European Union and 167 other countries. So the US is not included. Some major greenhouse gas emitting countries, such as China and India, have ratified the agreement.