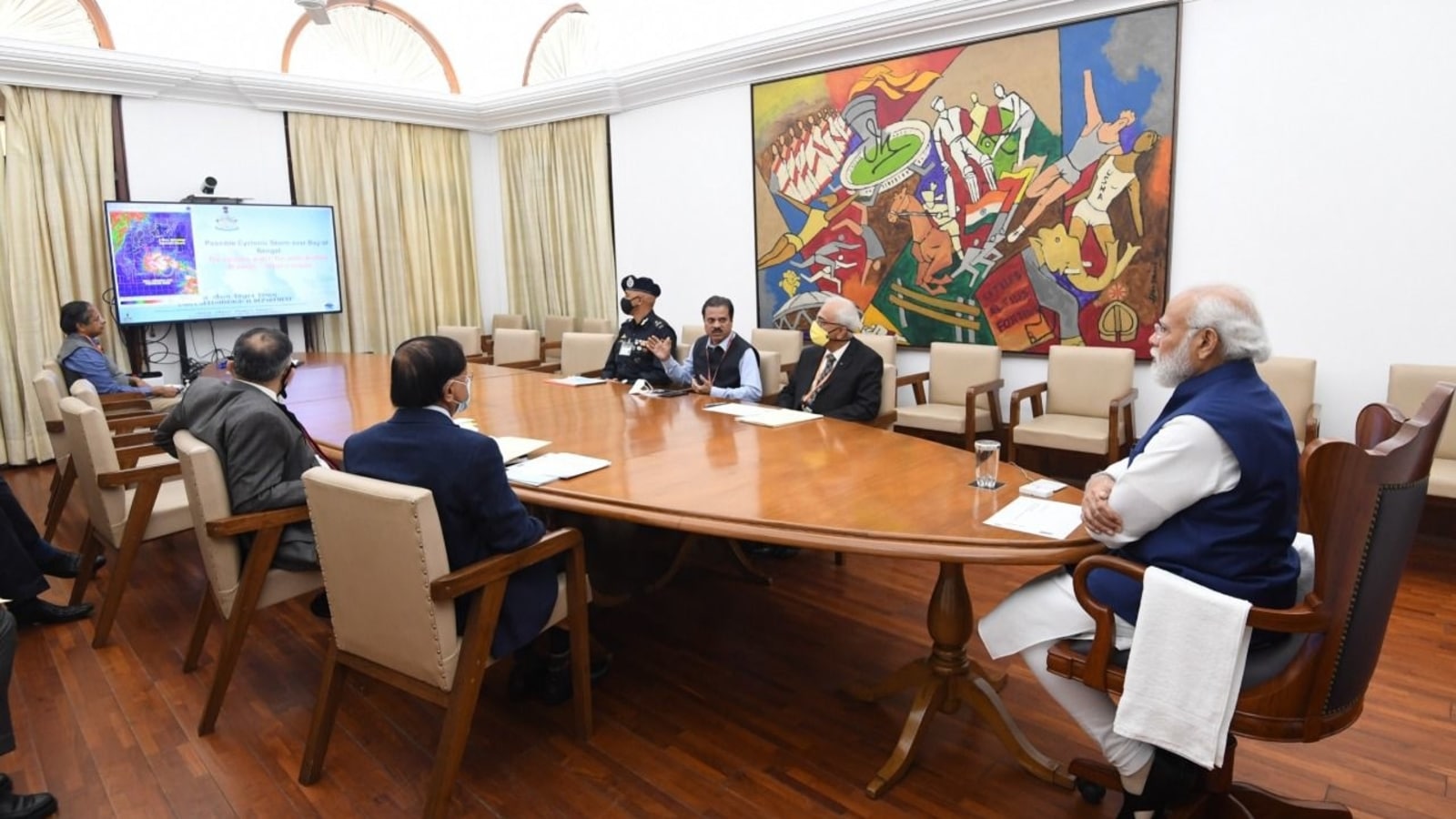 Prime Minister Narendra Modi had a crucial meeting on Thursday to discuss the country's cyclone situation. The meeting follows an impending cyclone in the Bay of Bengal.
The low-pressure area of ​​the Bay of Bengal will intensify in the Jawad cyclonic storm by December 3rd. It is expected to cross the coasts of Andhra Pradesh and Odisha by the morning of December 4, with wind speeds ranging from 90 km / h to 100 km / h. km / h, accompanied by heavy rainfall and tidal waves in the coastal districts of these states.
The cyclonic storm is likely to affect Srikakulam, Vishakhapatnam and Vijayanagaram districts in Andhra Pradesh and the coastal districts of Odisha. It is also likely to bring heavy to very heavy rainfall in the coastal areas and Gangetic parts of West Bengal.
The sea is likely to be very rough, with light winds reaching a speed of 45 to 55 km / h, with gusts of 65 km / h on 3 December. the weather department.
Cabinet Secretary Rajiv Gauba held a meeting of the National Crisis Management Committee (NCMC) on Wednesday to discuss the readiness of ministries and central agencies before the cyclone lands.
Gauba stressed that fishermen and all vessels at sea should be called back immediately, and people in areas likely to be affected by the cyclonic storm should be evacuated as soon as possible.
The Director General of the Meteorological Department of India (IMD) Mrutunjay Mohapatra made a presentation at the meeting in which he provided details on the current state of the cyclone and its expected course of movement.
IMD issued a red alert (heavy to heavy rains) in Odisha's Gajapati, Ganjam, Puri and Jagatsinghpur districts. An orange alert was issued in the districts of Kendrapara, Cuttack, Khurda, Nayagarh, Kandhamal, Rayagada and Koraput for December 4, after the cyclonic storm reached near the coast. It also emitted yellow, indicating heavy rains in Balasore, Bhadrak, Jajpur and Malkangiri districts on the same day.
The National Disaster Response Force (NDRF) has deployed 32 teams in Andhra Pradesh, Odisha and West Bengal and additional teams are also being held on hold. The Army and Navy are also prepared with their ships and aircraft.
The Coast Guard has already initiated extensive preventive measures on the east coast, taking into account the approaching cyclonic storm. Coast Guard disaster relief (DRT) teams with inflatable boats, lifebuoys and life jackets are waiting for the disaster response operation, a Defense Public Relations officer tweeted on Wednesday from Chennai.