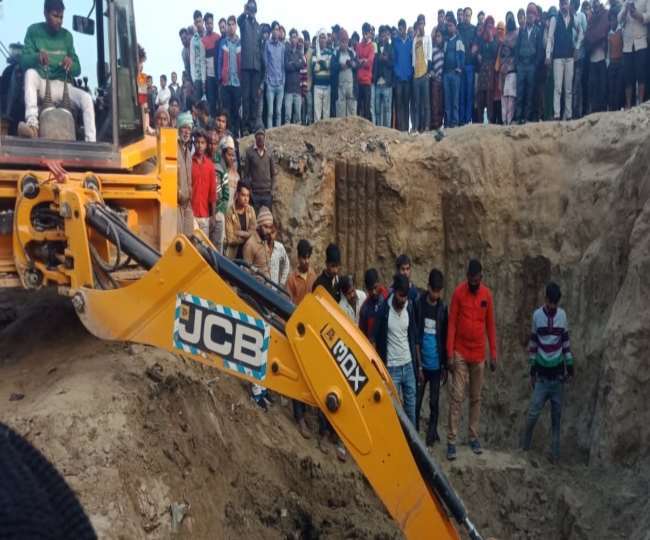 Major Accident in Agra, Agra: Before the end of the last day of 2020, three families in Agra have been given lifelong pain. Three children were killed in the crash on Thursday evening. Sludge fell into a lake on Thursday in the Nagra area behind Sikandra's Ranak police station. Eight children played in it.
The screaming villagers and police rescued the children for hours. He was rushed to SN Emergency and Sikandra Highway Hospital. In an emergency, doctors pronounced three children dead. The deaths of the children spread chaos in their families and in the cities. Forces from several police stations have reached the spot as there is a possibility of disturbance.
In the town township of Runakata, the passing chief has been digging the old lake for three days. Excavations by JCB have left a 12-foot-deep pit in the lake. Work closes on Thursday. Excavation by JCB has polished the soil around the pit in the pond. Around 4 am on Thursday, 10-12 children from Nagara Basti were playing in the lake. This time, the children went to the pit while playing. Radha (years) and Meenakshi (years) daughter Jitendra, Ayush (years years) son Pappu, Naina alias Sonal (years years) son Hariom, Piyush (years years) son Girraj, Dev (years years) son Deepsing, Ankit (10 years) and Daksh (5 years) son Captain Singh were crushed. People nearby reached the lake when they heard children playing. Hundreds of people from the township gathered when they heard that children had been buried by throwing stones in the mud.
Also read: Rescue operation: Everyone was searching for their son under the mud hill in Agra, screaming and innocent people came out in tears
He started the rescue to get the kids out. After the information of the accident reached the police, the police called JCB and started removing the soil. The children were taken out after about an hour of rescue. Of these, Radha, Meenakshi Daksh and Naina were admitted to SN Emergency while others were admitted to the hospital on Sikandra Highway. Meenakshi, Daksh and Naina died while undergoing treatment at SN Emergency. The news of the children's death sent shockwaves through the family and the village. Several police forces rushed to the spot with the intention of killing the children. People believed and calmed them down.
What to say DM The
According to DM Prabhu N Singh, eight children were buried due to mudslide in the lake. After their release, the children were admitted to the hospital. Meenakshi, Naina and Daksh died during the treatment.
Get all the big news and get e-papers, audio news and other services in short, download Jagran app