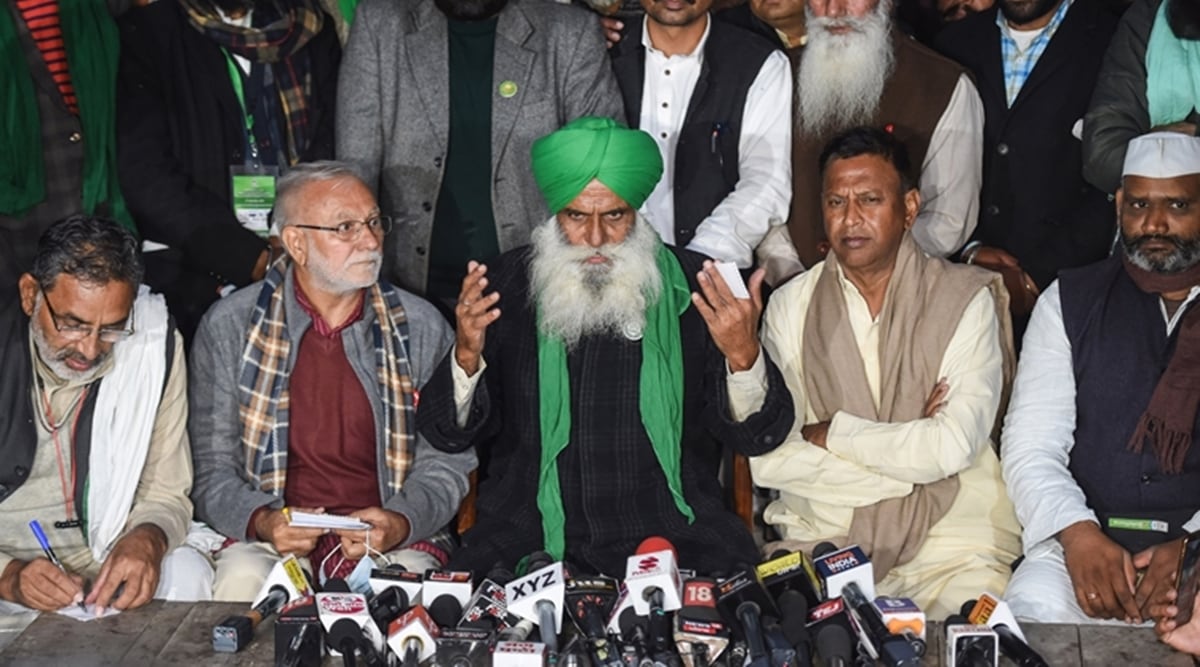 By: Express Web Desk | New Delhi |

Updated: December 15, 2020 10:28:12 PM




Farmers 'leaders Jagjit Singh Dallewal (C), Rishipal Ambawat (R,) Inderjit Singh (2ndL), Yudhvir Singh (L,) and others during a press conference after a meeting of the Common Farmers' Front (Sanyukt Kisan Morcha), with on their protest against the new agricultural laws at the Singhu border in New Delhi on Tuesday, 15 December 2020. (ITP)
Given the stalemate in controversial farm laws, even after 20 days, farmers' leaders said on Tuesday that they were not running away from negotiations and that the central government should put forward concrete proposals.
Strengthening their position on the issue, farmers' leaders on Wednesday announced a complete blockade of the Chilla border between Delhi and Noida to express their demands.
The government says "we will not repeal these laws", we say we will make you do it. The struggle has reached a stage where we are determined to win no matter what, "said farmers' leader Jagjeet Dallewal during a news conference at the Singhu border in New Delhi.
The decision to protest farmers from escalating their unrest comes on a day when Prime Minister Narendra Modi said farmers gathered near Delhi were being misled as part of a conspiracy.
During a function in Dhordo, after conducting virtual stone-laying ceremonies for three projects in Kutch district, Prime Minister Modi said: "I am confident that progressive farmers will defeat those who do politics by spreading falsehood and using farmers' shoulders. to draw their weapons ".
Prime Minister Narendra Modi during the Kutch event.
"A feeling of fear is injected into their minds. Farmers are being told that their land will be taken over by others if the new agricultural laws are enforced, "he said. "The demand for reforms in the agricultural sector that we brought recently was very old. Many farmers' organizations have long called for farmers to be given the freedom to sell their products wherever they want. "
"The opposition was in favor of these reforms when they were in power," he continued.
Prime Minister Modi has also laid the foundation stone for a number of development projects in Kutch. (Express photo)
"But they failed to make any decisions when they came to power. They only gave empty promises to farmers. Now that the country has taken this historic step, it is these people who are spreading falsehood. I want to reiterate that my government is ready 24 hours a day to resolve all your doubts ", said Modi.
The last five rounds of talks have remained inconclusive. The last round scheduled for December 9 was canceled after a meeting between chess and representatives of agricultural unions.
The Center then extended a new set of proposals for resolving the crisis, including a written assurance on the continuation of purchases based on the minimum support price (MSP) and parity in transactions within and outside the mandate of the Committee on Agricultural Markets (APMC). But farm leaders rejected the proposals and said they would step up their protests until the laws were repealed.
"A farmer died every day"
Farmers' protest leaders also called on people to pay tribute on December 20 to those farmers who lost their lives during the ongoing protests. Farmers leader Rishipal said one farmer had died on average every day since the protest began in the last week of November.
Farmers' leaders Jagjit Singh Dallewal (C), Rishipal Ambawat (R,) Inderjit Singh (2ndL), Yudhvir Singh (L,) and others during a press conference. (PTI)
"A day of homage (Shraddhanjali Diwas) to all farmers who lost their lives and became martyrs in the ongoing protest will be held across the country in villages and headquarters from December 20, between 11:00 and 13:00 Said one of the farm leaders. he said during the press conference.
Tomar meets with farmers, demands support for new laws
Meanwhile, Agriculture Minister Narendra Singh Tomar said on Tuesday that the new agricultural laws were welcomed in various states across the country, but the Center is willing to continue talks with "true agricultural unions" to find an open-minded solution.
His comments came after a meeting with members of the Bharatiya Kisan (Kisan) Union in Uttar Pradesh, who sent the minister a memorandum with suggestions on the Agricultural Acts and the MSP. "The farmers who met me today supported the three agricultural laws. They said they had a government bill. As some farmers spread the misconception, they were also misled. When I spoke to them, they clearly supported the bills, "Tomar told reporters after the meeting.
Agriculture Minister Narendra Singh Tomar with BKU (Kisan) leaders in New Delhi. (Twitter / nstomar)
According to the PTI, BKU (Kisan) has also decided to end its district-level protest in Uttar Pradesh for the time being. The farmers' corps was not part of nearly 40 groups of farmers who protested at various borders of the national capital and participated in recent rounds of talks with the Center without any discovery.
In a meeting with Tomar, BKU (Kisan) leaders suggested that farmers be offered the option to go to civil courts in case of a dispute. "They also suggested that Chief Panchayat would be given the same importance as Chief Mandi to protect the rights of farmers in small towns and villages. In the case of the Law on Essential Goods, they suggested that it should prevent hoarding and trading in the black market, "said a press release issued by the Ministry of Agriculture and Farmers.
On the other hand, President Shiromani Akali Dal, Sukhbir Singh Badal, called the former BJP ally the true "tukde tukde gang", which is trying to push the patriotic Punjab into communal flames.
Shiromani Akali Dal, President of Sukhbir Singh Badal.
"BJP is the real 'Tukde Tukde gang' in the country. It shattered national unity to pieces, shamelessly inciting Hindus against Muslims and now, desperately, poking peace-loving Punjabi Hindus against their Sikh brothers, especially farmers. I am pushing the patriotic Punjab into communal flames, "he said.
SAD has renounced the Democratic National Alliance because of agricultural laws. SAD leader Harsimrat Kaur Badal has resigned as EU minister.
"The government should get off its high horse"
Congress leader P Chidambaram on Tuesday called on the government to repeal agricultural laws and introduce a new bill after reaching an agreement with agitating farmers. "The government should get off its tall horse and quickly reach an agreement with farmers," Chidambaram said in a tweet.
It is shocking that, after 20 days of protests by farmers in the bitter winter in Delhi, the government continues to stand at the "no repeal" stand.

It is clear that any agreement between farmers and the government will necessarily require the adoption of a new bill in Parliament

– P. Chidambaram (@PChidambaram_IN) December 15, 2020
"The simple way to go is to repeal these laws and reaffirm a new law based on the agreement. Repeal and reconstitution is a well-known legislative instrument, "he added.
-PTI entries
📣 Indian Express is now on Telegram. Click here to join our channel (@indianexpress) and stay up to date with the latest headlines
For all the latest India News, download the Indian Express app.