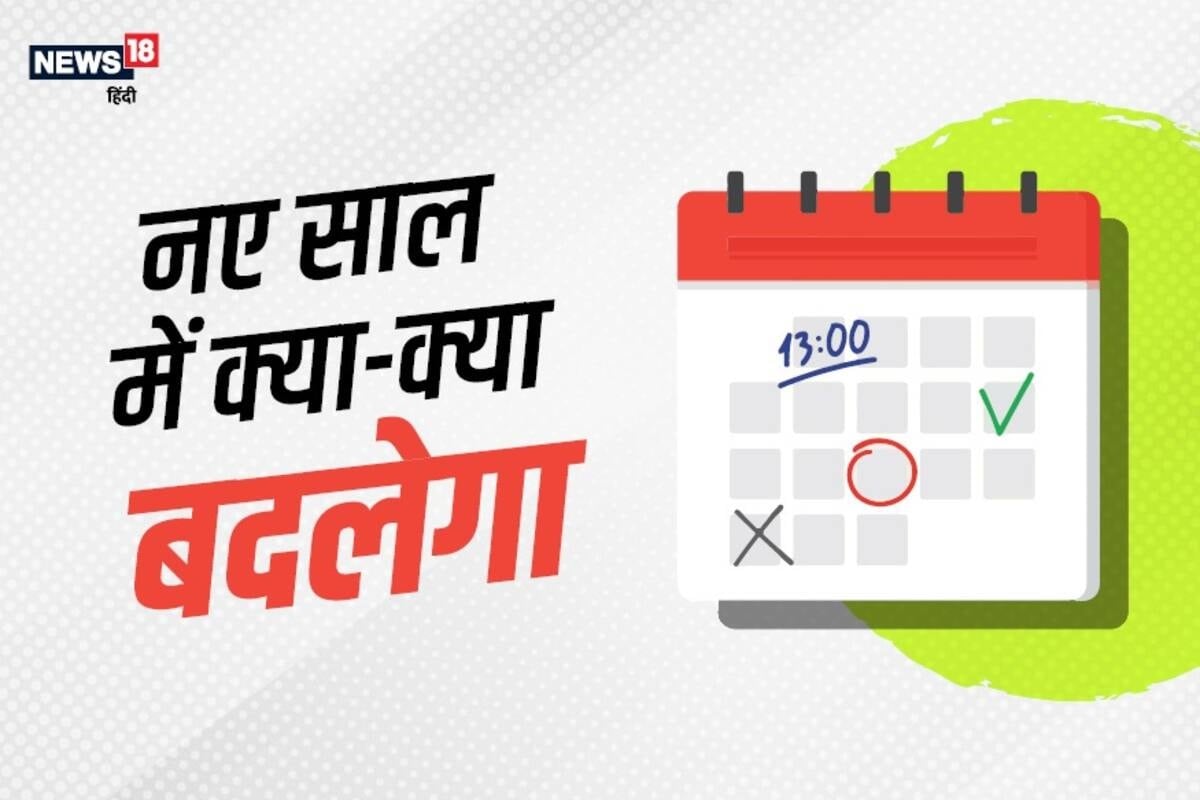 New Delhi.
The new year is going to change a lot of things related to your life. The new rules will apply to mobiles, cars, taxes, electricity, roads and banking. It will have a direct effect on the common man. The rules regarding check payments will change from January 1, under which a positive pay system will apply to checks over Rs 50,000. The central government has made Fastag mandatory for all four-wheelers from January 1. In addition, the RBI has decided to increase the limit for contactless card transactions to Rs 5,000 per transaction. So find out what 10 big changes are going to happen in the new year …
1. There will be an additional charge for UPRA From January 1, you may have to pay an additional fee to make transactions through Amazon Pay, Google Pay and Phone Pay. In fact, NPCI has decided to levy additional charges on UPI Payment Services (UPI Payments) operated by third party app providers from January 1.
2. From January 201, cars will become more expensive Vehicle companies will increase the prices of most of their models from January 2021, after which car purchases will be more expensive than before. So far after Mahindra, Maruti, Renault and MG Motor have announced price hikes.
Read also: Government's New Year gift to EPFO ​​account holders, 6 crore people can get PF money today, check this way
Trains. Fastag mandatory in trains Fastag is required to cross tolls in trains from 1 January 2021. Please note that from January 1, all lines will be expedited. So far 2.20 crore fastags have been issued. FASTAG has been made mandatory for all vehicles following the government's announcement.
Mutual. Rules for investing in mutual funds will change SEBI has changed the asset allocation rules for multicap mutual funds. Under the new rules, 75 percent of the funds will now have to be invested in equities, which is currently at least 65 percent. According to SEBI's new rules, the fund will require 25-25 per cent investment in midcap and smallcap. At the same time 25 per cent will have to apply in large stages.
Check. Rules relating to checks- From January 1, 2021, the rules regarding check payments will change. Under this, a positive payment system will be implemented for checks over Rs. A positive pay system is an automated tool that will stop fraud by checking.
GST. The rules for GST returns will be changed Small businesses with a turnover of up to Rs 5 crore will have to pay only 4 sales returns from January next year. At this time traders have to pay 12 refunds (GSTR 3B) on a monthly basis. In addition 4 GSTR1 will have to be paid. Taxpayers will only have to file 8 returns once the new rules come into force. Of these, 4 GSTR 3B and 4 GSTR 1 returns will have to be filed.
7. Term Plan – Will be able to buy at a lower premium IRDAI has directed the insurance companies to introduce standard term life insurance after introducing a certified regular health insurance scheme called Arogya Sanjeevani. This policy is called 'Simple Life Insurance'. This plan will help customers make decisions based on the information already provided by the companies. People between the ages of 18 and 65 can purchase simple life insurance.
Electric. Power connection- The Ministry of Power is preparing to implement the Consumer Rights Rules from January 201. Electricity distribution companies will then have to provide services to the customers within the stipulated time, failing which the customers may be penalized. The draft rules have been sent to the law ministry. Once approved, customers will not need much paperwork to get a new connection.
Also read: LPG cylinder: Today is the last chance to get a Rs 700 gas cylinder for Rs 200, take advantage of the offer soon
9. WhatsApp- Will not work in some smartphones According to the report, WhatsApp will stop working in some smartphones from January 1, 2021. This includes both Android and iPhone. WhatsApp will not support older version software.
10. Landline calls will have to be nullified. To make calls to mobile phones from landlines across the country, it will now be necessary to put zero before the number from January 1. TRAI had recommended 'Zero' (0) on 29 May 2020 before giving numbers for such calls. Will help to meet the needs.