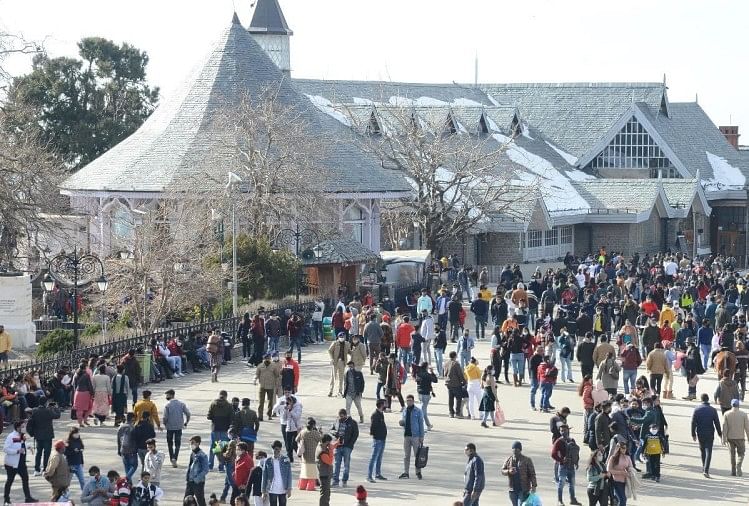 Amar Ujala Network, Shimla
Updated Thu, 31 December 2020 08:22 PM IST
Tourists walking on the ridge.
– Photo: Amar Ujala
The weather will be clear on Friday, the first day of the new year in Himachal Pradesh. The weather will change in the middle mountainous region from January 2. Rain and snowfall is forecast across the state between January 3 and 6. This change in climate is due to the movements of the western disturbances.
The weather remained clear in all parts of the state, including the capital Shimla, on Thursday. There was sunshine in most parts of the state. Thursday 21.2 in Una, 22.5 in Solan, 20.0 in Kangra, 1.8..8 in Sundernagar, 1.3..3 in Shimla, 1.9 in Bilaspur, 1.6..0 in Hamirpur, 1 in Chamba. .5..5, in Bhunta 1.8 .., in Mandi 1.2.2. 15.3, Dalhousie recorded 11.8, Kufri 10.8, Kalpa 8.3 and Keylong minus 3.7 degrees Celsius.
Meanwhile, the minimum temperature in Kelong on Wednesday night was minus 12.2, minus 3.8 in Kalpat, minus 2.4 in Sundernagar, minus 1.1 in Bhuntar, minus 0.7 in Solan, zero in Manali, 0.1 in Mandal, 2.4 in Shimla and Shimla. 3.0. The temperature was recorded at 3.0 degrees Celsius.