Highlights:
Prime Minister Modi mentioned the farmers' movement during his visit to Gujarat
Prime Minister Modi targeted the opposition and reassured the farmers
Attempts are being made to scare farmers – Prime Minister Modi
New Delhi
Farmers have been protesting against the new agricultural rules for the last fortnight. Farmers are demanding that the government repeal all the three new laws. At the same time, the government is adamant not to withdraw the law. There have been several talks between the government and the farmers' leaders, but no conclusion has been reached yet. Meanwhile, Prime Minister Modi has also tried to win the trust of farmers.
Mention of the peasant movement
Prime Minister Narendra Modi arrived in Kutch, Gujarat on Tuesday and laid the foundation stone of the world's largest renewable energy park. PM Modi also mentioned the farmers' movement during the program. With this, PM Modi said that if you buy milk from a dairy, who stole the buffalo? In this way, Prime Minister Modi tried to convince the agitating farmers in Gujarat.

Targeted by PM Modi
While visiting Gujarat on Tuesday, the Prime Minister said in a speech here that efforts were being made to intimidate the farmers. Narendra Modi on Tuesday said that his government's priority is the welfare of the farmers. He said that the government was ready round the clock to address the concerns of the farmers. After laying the foundation stone of several development projects in Kutch, Gujarat, the Prime Minister in his address targeted the opposition and accused them of conspiring to confuse the farmers.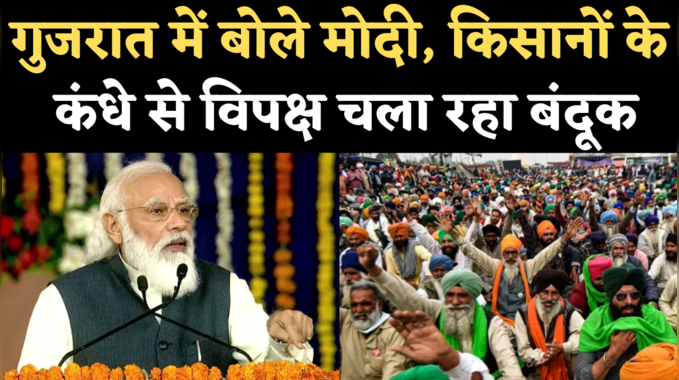 Modi on Kisan Andolan: Modi speaking in Kutch, Gujarat – Conspiracy to intimidate and confuse farmers around Delhi
Prime Minister Modi gave the example of the buffalo
PM Modi said that nowadays a conspiracy is being hatched around Delhi to intimidate the farmers. Modi said, 'If someone agrees to take milk from you, does he leave with a buffalo? We are giving the same kind of freedom to the farmers as we are giving to the cattle. Farmers' organizations have been demanding this for many years. Opponents are misleading farmers today, but they have been saying the same thing during their government.