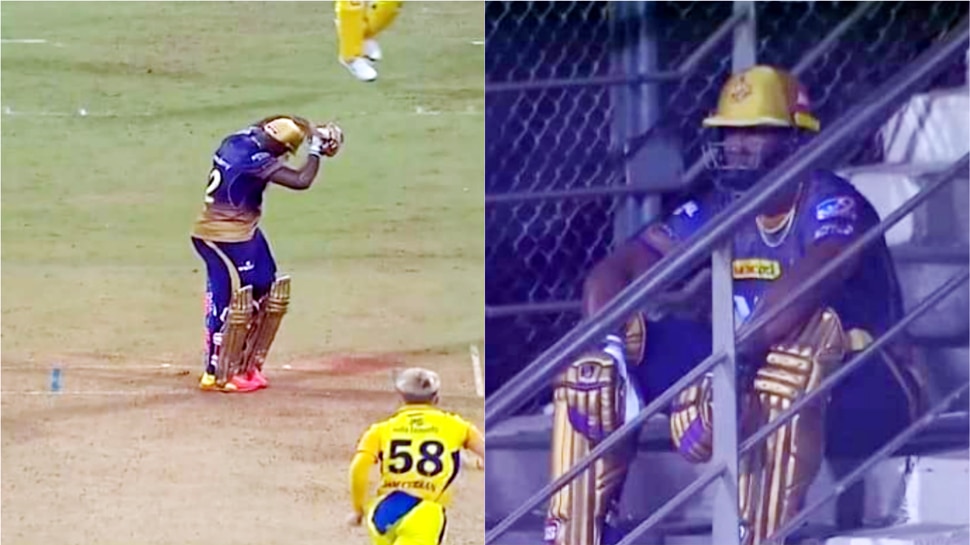 Chennai: Kolkata Knight Riders (KKR) lost to Chennai Super Kings (CSK) by 18 runs. Kolkata had lost all their runs at the same time in the match, but Andre Russell's 54 off 22 balls raised hopes of victory, but Russell was left helpless when he ran away with Sam Kurran in the 12th over. He was thrown on the ball. In fact, on the second ball of the 12th over, Sam Curran bowled Andre Russell to return the match for Chennai.
Russell sat quietly on the steps
When Andre Russell was dismissed, Kolkata were 6 for 112. Andre Russell hit 3 fours and 6 sixes in his stormy game. Andre Russell was relieved to be out and sat quietly on the steps of the dressing room to watch the match. Fans on social media started having fun seeing Russell like that.
Andre Russell looks sad
Andre Russell was a good hit, but he couldn't judge Sam Curren's ball line. For this reason, the explosive batsman looked very unhappy. As Russell walked out into the dressing room, he could clearly see the frustration on his face.
Andre Russell after bowling Sam Curran.# CSKvsKKR pic.twitter.com/GPSOxqDUYB

– UrMiL07 (m urmilpatel30) April 21, 2021
If anyone says # IPL2021 Fixed or scripted, just show them this picture. pic.twitter.com/xCYgQvUYW3

– Masked Ravi Bhai Daruwala (वी Ravibhai 2705) April 21, 2021
After Andre Russell's reaction # IPL2021 #KKRvCSK pic.twitter.com/buo3fNmjnw

– RVCJ Media (RVCJ_FB) April 21, 2021
Andre Russell and Pat Cummins# IPL2021 # CSKVKKR pic.twitter.com/t9J2iG6CCP

– RVCJ Media (RVCJ_FB) April 21, 2021
Well beta Andre Russell.# CSKvsKKR pic.twitter.com/KX7k0LgWGL

– Durgesh Singh (Durgesh 87929113) April 21, 2021
Chennai beat Kolkata
Let us know that after half-centuries by Faf du Plessis and Itu Turaj Gaikwad, Chennai Super Kings recorded their third consecutive victory by defeating Kolkata Knight Riders by 18 runs from Deepak Chahar's Katilana Spell (4 for 29).
Faf du Plessis' unbeaten 95 and Gaikwad's 64 helped Chennai Super Kings to a massive 220 for three.
Cummins-Russell's innings didn't work out
Kolkata Knight Riders Pat Cummins remained unbeaten on 66 off 202 runs in 19.1 overs (34 balls, four fours, six sixes) and Andre Russell (54 off 22 balls, three fours and six sixes). In this thrilling match, he had to suffer his third defeat in a row.