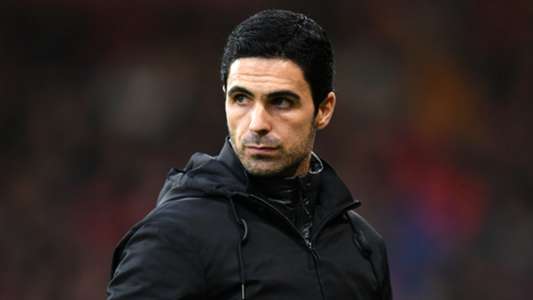 Gunners head defiant ahead of Premier League side Southampton on Wednesday night
Mikel Arteta says that he is ready to take "bullets" for his players and that he remains 100% confident that he is the man who will return things to Arsenal.
The pressure on the Gunners boss increased after the club's worst start to the league in 1974 and four consecutive home defeats.
Arsenal host Southampton on Wednesday night, finishing 15th in the Premier League and just five points above the relegation zone.
Arteta admits that the results were not good enough and understands the criticism that came to her.
But he issued a rally shout to his players, asking them to stand up and be brave in the face of such control and says he is ready to take his chest off and take whatever happens to him.
"I feel the pressure all the time," Arteta said. "It simply came to our notice then [good] spell [last season], everything was not beautiful. In the last months of last summer there were a lot of difficult times, believe me. It was not all beautiful, easy and pleasant.
"But obviously when you win, you create a different mood and then the pressure once you win is to win again. And the pressure will always be there.
"I prefer this pressure when you are always thinking of winning and going to the next trophy. But this is our reality right now and we have to face it.
"And we have to face with courage, fight and no one gives up or anything, because it's not the time to hide, it's the time to put your face and body on the line. Right now, I'm sorry, but we have to take the bullets.
"We don't win football matches and you have to take your chest off [and say] "Hit me because you have the right to hit me because I don't win."
"So what else can I do? Put my head down, work harder and try to make things better and better. As we should, we need to address things. "
When asked if he is the man who has to take the bullets rather than the players, Arteta added: "It's natural, I accept it. It's part of this.
"When you do not get results, at the end of the day it is the manager who has the maximum responsibility.
"That's why I accept them, because you can say whatever you want to explain, but in the end you have to win football matches and this club is too big to accept so many losses in the last weeks.
"So my chest is here, hit me guys."
Arteta received the support of the technical director of Arsenal Edu this week, who spoke about the need for stability at the club after a period of such dramatic changes in recent years.
The Gunners boss says he "appreciated" the public support show and was convinced he could get Arsenal back on track.
"Yes," he said when asked if he was 100% confident he could turn things around.
"We all knew the bumps were coming. I think I've said many times in this room, it's how we deal with them, how strong we are to get through them, and sometimes when things get ugly, we need to get brighter and better.
"Nobody likes to be in the situation we are in the Premier League and it is not good enough and it is not acceptable. It is not a quick solution, but that does not mean that we accept the situation, but on the contrary. "