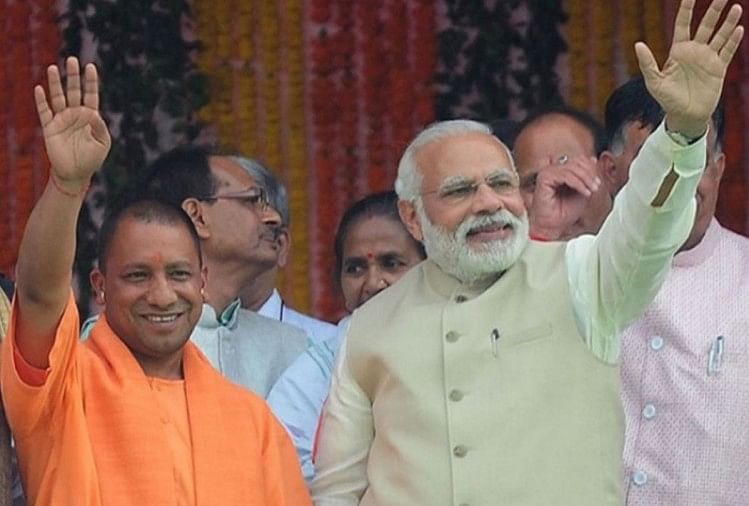 News Desk, Amar Ujala, Lucknow
Updated Fri, Jan 01, 2021 12:14 AM IST
Chief Minister Yogi and Prime Minister Modi. (File photo)
– Photo: Amar Ujala.
Prime Minister Narendra Modi will lay the foundation stone of the Light House Project (LHP) today. 10,440 flats will be constructed in the LHP starting from the capital's Awadh Vihar residential scheme, which will be available to the urban poor for just Rs five lakh. These flats will be ready in a year. Chief Minister Yogi Adityanath and Urban Development Minister Ashutosh Tandon will also be present at the groundbreaking ceremony through video conferencing.
Urban Development Minister Ashutosh Tandon said the 'Light House Project' would be launched in Lucknow under the 'Global Housing Technology Challenge India' (GHTC India) as part of the drive to provide affordable housing to the urban poor. It was informed that the Central Government has selected Lucknow for the 'Light House Project' in view of its excellent performance in the Prime Minister's Housing Scheme (Urban). It is said that houses will be built with new technology in this project and the construction will be completed quickly. The project is targeted to be completed in just 15 months.
As per the central government's plan to provide housing to all urban poor by 2022, the Prime Minister's Housing Scheme (Urban) will literally lay the foundation stone for the project, which will be launched simultaneously in six states. After addressing the event, the Prime Minister will announce the winners under 'Prime Affordable Sustainable Housing Accelerators-India' (Asha Bharat) and also give annual awards for outstanding work in the implementation of 'Pradhan Mantri Awas Yojana-Shahri' (PMAY). .
The flat will cost Rs 12.59 lakh
Under the light house project, 14 storey towers will be constructed and the area of ​​the flat will be 415 square feet. The total cost of the flat will be Rs. 12.5 lakhs, out of which a grant of Rs. 7,8383 lakhs will be given by the Central and State Governments. The remaining Rs 76.7676 lakh will have to be paid to the EWS category beneficiaries. The flats will be allotted according to the Prime Minister's Housing Scheme city and will be left open under the chairmanship of the DM through DUDA.
Read on
The flat will cost Rs 12.59 lakh