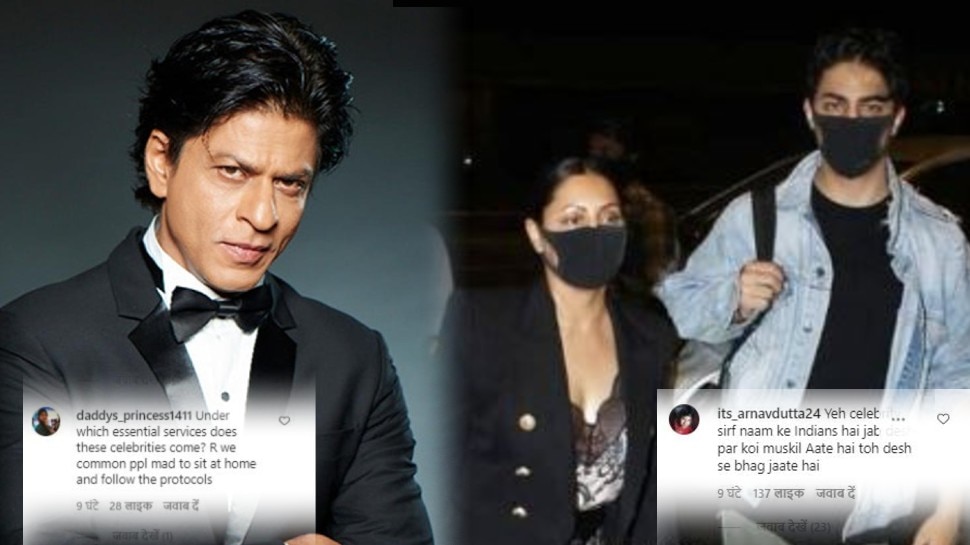 New Delhi: Shah Rukh Khan's son Aryan Khan and wife Gauri Khan were spotted at the airport late on Wednesday night. This time the two caught a flight to New York. After watching the video of these two, social media users are trolling them. People say that one should not travel during the Corona period.
There are trolls on social media
In fact, Shah Rukh Khan's daughter Suhana Khan is currently alone in New York. During the Corona period, Aryan Khan and his mother Gauri Khan went to visit him tomorrow. In such a situation, people got angry with both of them. One social media user wrote, "These celebrities are just Indian names, they run away from the country whenever there is a problem in the country." At the same time, another user wrote, "Yes, if the situation in India gets worse, all flee abroad, get money but get out if the people here need it."
People are asking questions
At the same time, many ordinary people are asking the question, 'Lockdown is only for ordinary people, these people are traveling around the world'. At the same time, one person wrote, 'Someone is going to Maldives, someone is going to New York'. At the same time, one wrote, 'Get them out of India.'
These Bollywood stars arrived in Maldives
Let me tell you, film shooting has been banned against the backdrop of a growing corona infection. In such a situation, films are not being shot in Bollywood and people have to stay at home due to lockdown. Meanwhile, Bollywood stars do not stay in their homes. Everyone has gone somewhere on vacation. Many Bollywood celebrities are on holiday in Maldives. Alia Bhatt, Ranbir Kapoor, Ranveer Singh, Deepika Padukone, Sara Ali Khan, Jahnavi Kapoor, Disha Patani and Tiger Shroff are in the Maldives.
TV celebs also in the Maldives
Also, a few days ago, many celebrities have returned from vacation. The day before, Shraddha Kapoor has returned from her Maldives holiday. In addition, many TV celebs are on holiday in the Maldives. Surabhi Jyoti, Tina Dutta and Shrishti Road are also in Maldives. Shefali Jariwala and Aarti Singh have also returned a few days before the Maldives holiday.
Also read: Mira Rajput changes clothes in front of camera, says Shahid Kapoor
Click here for the latest and exciting news of entertainment Zee News Entertainment Facebook Page Liked