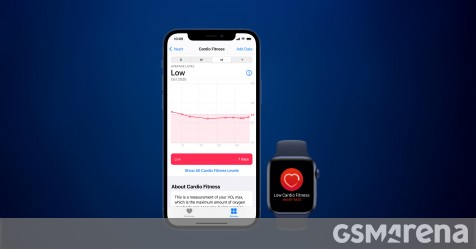 Apple has launched watchOS 7.2 with iOS 14.3 and the new plus for watch users is cardio-fitness measurement, which classifies your level of cardio fitness according to age group and gender. There are four categories of fitness level from low to high. You will receive notifications if your measurements are in the lower range.


Apple Watch cardio fitness and Fitness + interface
The entire classification takes place through the V02 max readings on the Apple Watch and comes just in time for the launch of Apple's Fitness + subscription service. It's interesting enough to access Fitness + requires an Apple Watch, although there are reports that you can participate in workouts directly from your iPhone or iPad without the need for a watch.
Fitness + offers personalized workouts in over 10 areas, from yoga to strength training, for a monthly fee of $ 9.99 or an annual subscription of $ 79.99 in the United States. Users can share their Fitness + subscription with up to 6 family members.
Current Apple Watch Series 3 or later users receive one month of free Fitness +, while new buyers receive 3 months free. The service works on iPhone 6s or later with iOS 14.3, iPads with iPadOS 14.3 and Apple TV with tvOS 14.3.
Source 1 • Source 2