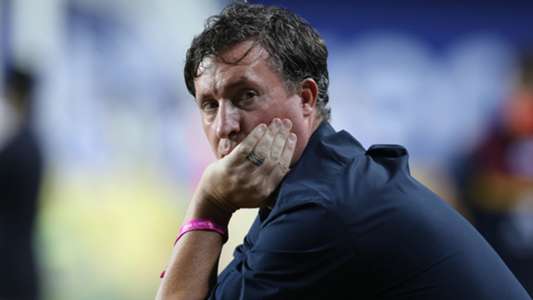 East Bengal head coach Robbie Fowler said his team was recruited for the I-League, but now players have to prove their worth in the ISL …
East Bengal head coach Robbie Fowler believes his current team has been recruited for the I-League and that players need to step up to perform at the required level in the Indian Super League (ISL).
His team lost 2-3 in Hyderabad in the 2020-21 ISL match at the Tilak Maidan in Goa on Tuesday.
The Kolkata Giants were leading at the break, after Jacques Maghoma came out of the deadlock in the 26th minute. Aridane Santana then scored twice in the second half, and Halicharan Nazaray placed third to return an amazing comeback. Maghoma pulled a real crowd pleaser as he, after 81 minutes, wove through the guests' entire central defense and put the 1 – 1 equalizer away.
Fowler did not say a word about his team's performance. The reds and golds are without a win after playing five matches and are currently at the bottom of the table
"I just think we're a team built for the I-League. The recruitment process for this team was for the I-League and then we catapulted to the ISL. Now it's up to the players to show that they're good enough. For the ISL." , said Fowler after the match.
The 45-year-old also said that East Bengal has shown that it can score goals, but it needs to focus better on games.
"We could have done much better. We have scored a few goals, which is obviously a positive thing for us. We have shown that we can score goals and now we need to improve our concentration level. 10 minutes after the break, you get two goals which It's obviously not what we wanted. We started well, took the lead and stopped. "
He added: "Well, I think we obviously need to improve en masse. Look, it's not over yet. We have a lot of points to play. We still have a lot of performance in us. See from that lineup. of the team and the players playing in this we have a lot of work to do. I'm going to talk to the players. Some of them are not doing themselves any favors at the moment. "
Fowler also urged his players to stand up and focus on the next matches instead of destroying the defeat, as he believes things can be turned around.
"We have to choose ourselves. It's not about softening and crying. We just have to keep going. We have to take it, it can be changed, we have to improve. We have to be sensitive. We have to be cleaver," the Bengal manager said. Of east.
Following the first victory of the season, East Bengal will now take on the Kerala Blasters on Sunday.